The well reported inflation in A Level grades this summer, significantly above even the generosity of grading achieved in 2020 by the u-turn to issue Centre Assessed Grades, is driving a dramatic reshaping of the HE sector.
17 days out from A Level Results Day, UCAS reports that there are marginally fewer total placed applicants that at the equivalent point in 2020 – approximately 610 lower at 499,850.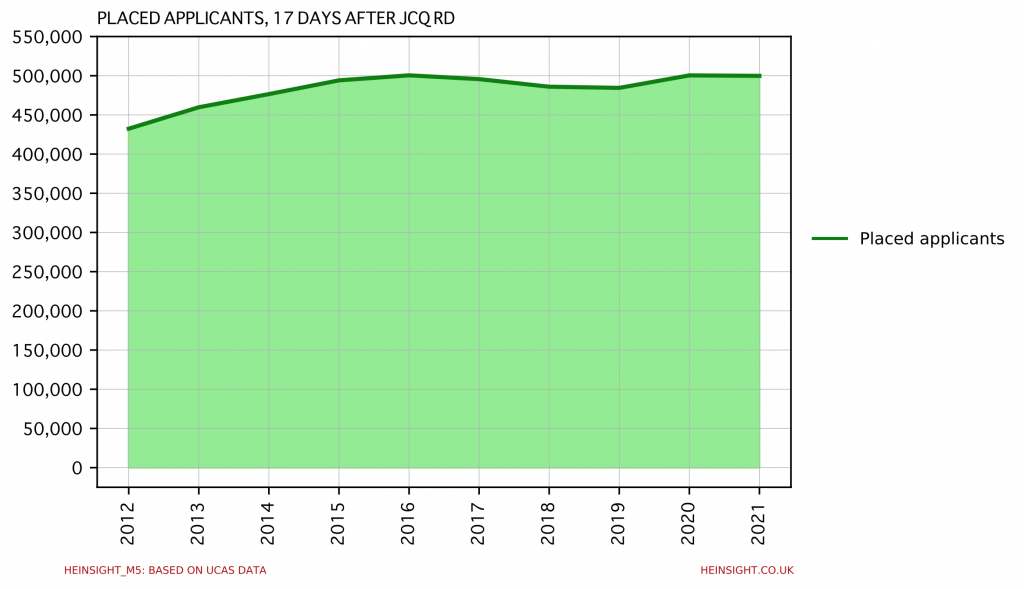 The sector's undergraduate intake is therefore due to be almost exactly as it was in 2020. Where these applicants have been placed however is a different matter. The higher tariff third of the sector has continued its dramatic growth and is now the largest component of the sector by intake for the first time.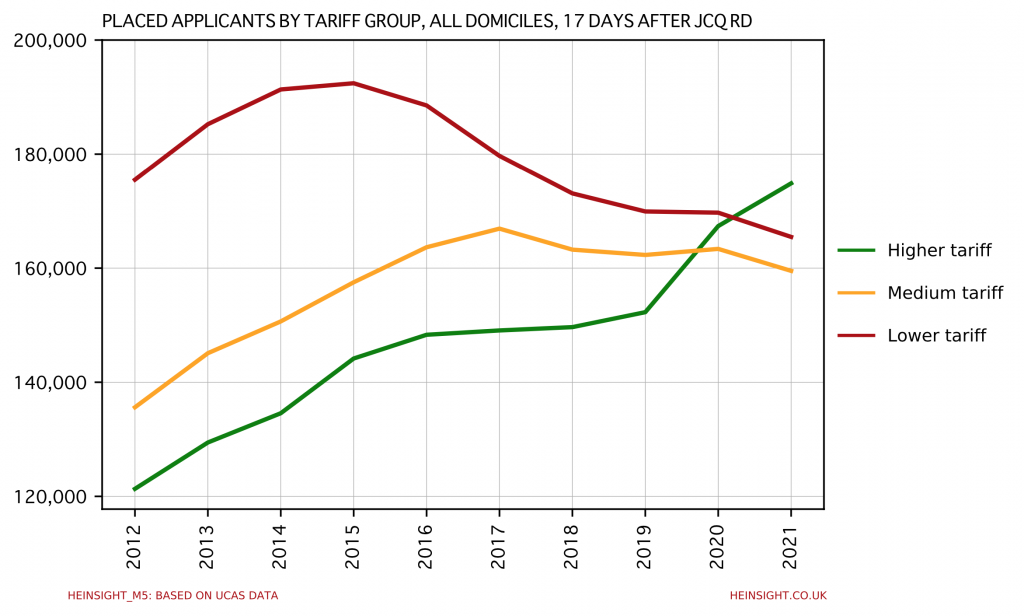 Whilst the higher tariff group's growth in 2020 was faster it roughly balanced with the growth of the sector overall, leaving the medium and lower tariff groups with little change in their intake overall. This year however, as higher-tariff institutions either deliberately embraced further growth or misjudged the extent to which they needed to curtail offer making to prevent it, even higher grades meant growth for the higher tariff group at the expense of the medium and lower tariff groups.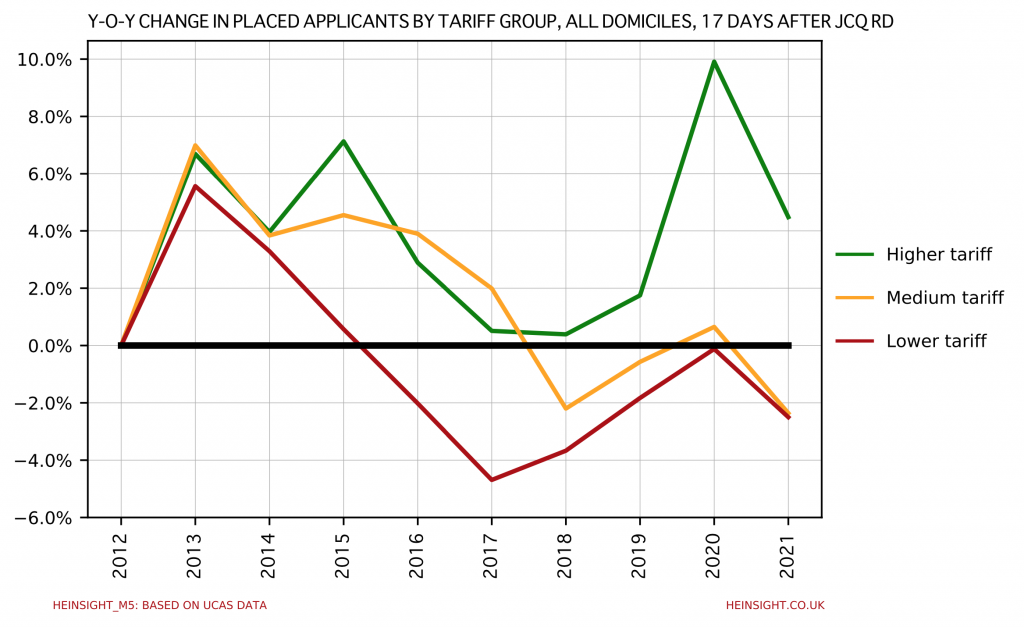 The other high level change this year has been the dramatic drop off in placed applicants from the EU, triggered by the Brexit-induced change in these applicants' fee status and foreshadowed by the similarly dramatic fall in EU applications observed in January.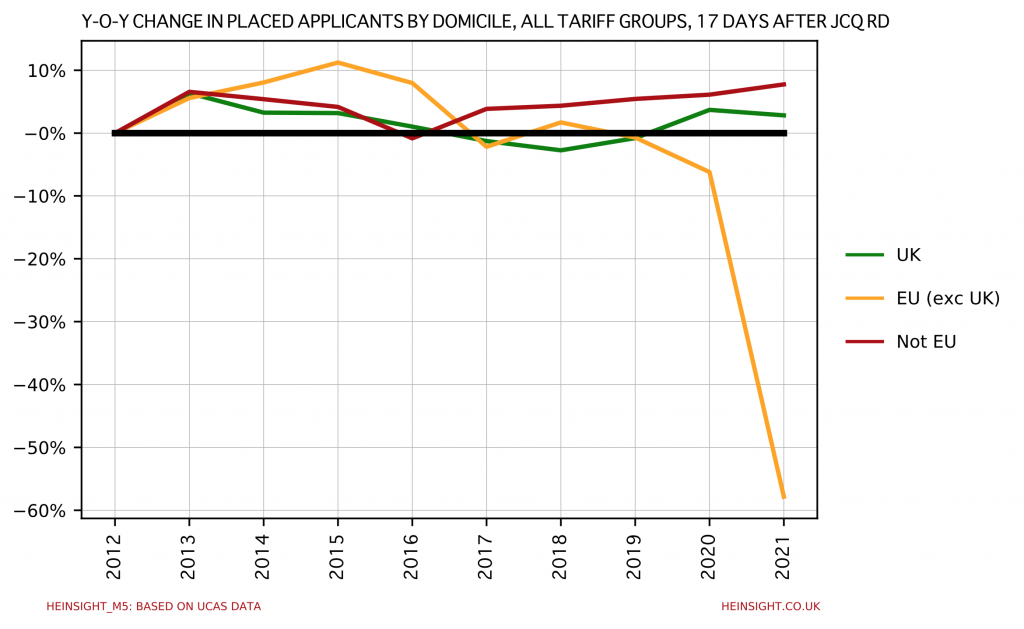 Stripping out this change and focussing only on the UK shows that whilst the medium tariff group did here achieve some growth, the higher tariff group's growth was even more dramatic, coming in at 9.5% higher than in 2020. This leaves the higher tariff group's intake a fifth higher in 2021 than pre-covid.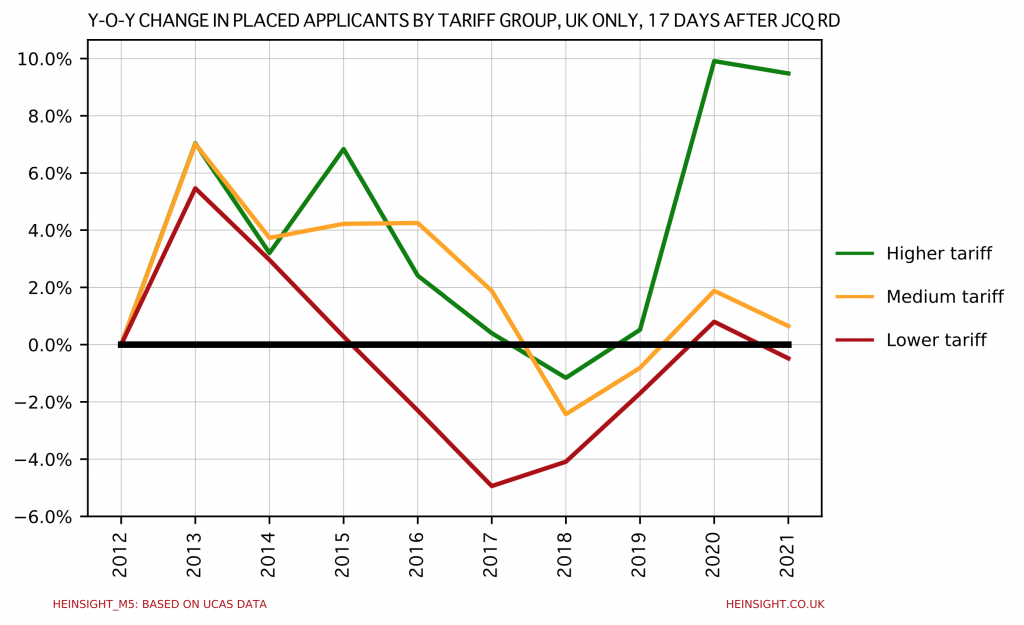 Whatever is to be done about the now pressing need to stabilise A Level grade distributions, the only way that the sector can now navigate the coming demographic surge without a capacity crisis is by finding a way to restore some balance. With many higher tariff institutions now likely to have limited capacity to grow any further for the next few years, it is the many high quality medium and lower tariff institutions that must be supported to grow in the short- and medium-term if we want to meet demand for higher education.